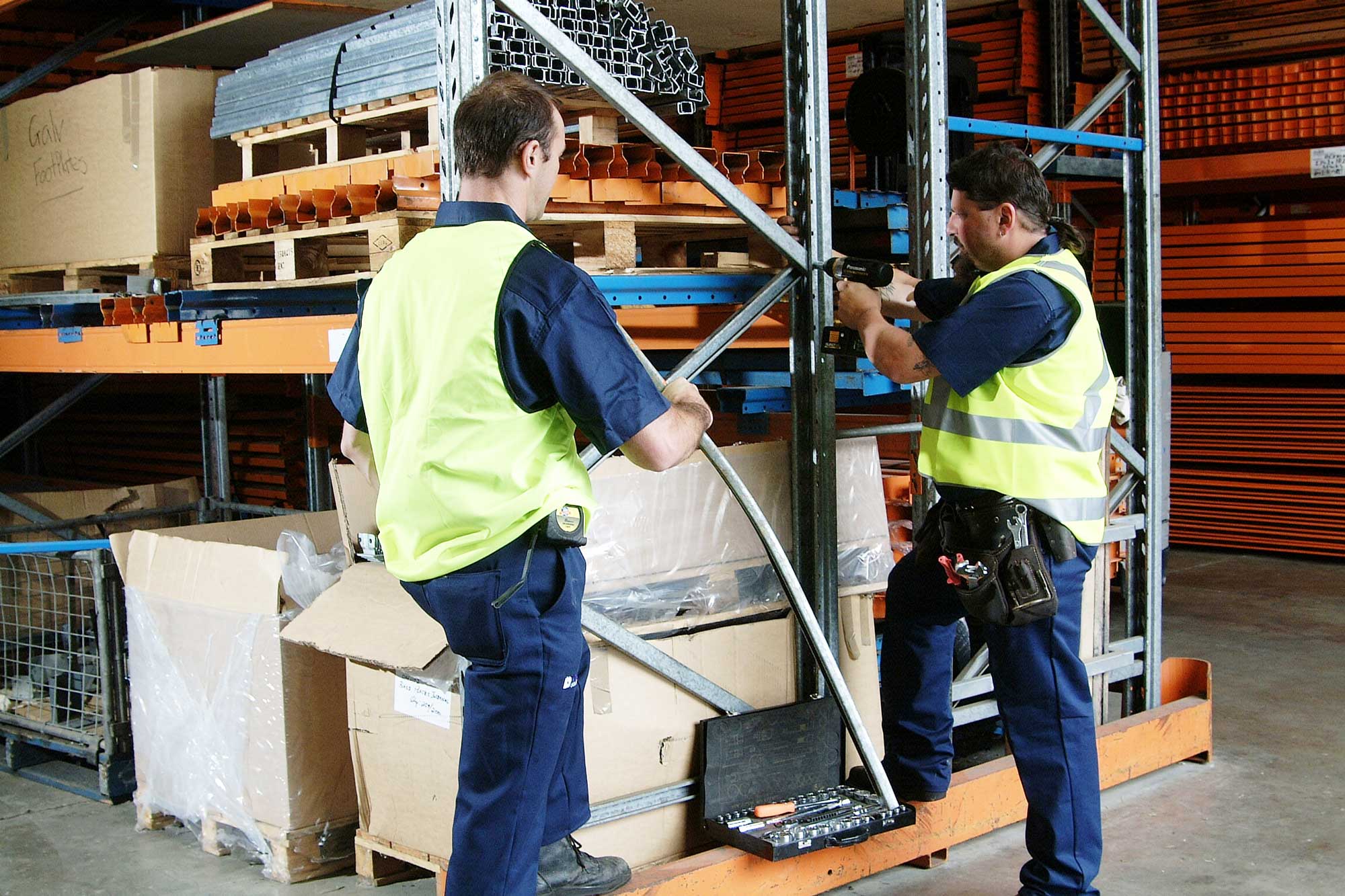 Pallet racking safety needs to be your first priority if your business implements the use of pallet racking systems. Safe pallet racking will reduce the risk of injuries and capital damages in your workplace. Regular inspection, repairs, auditing, and certification is important as they work to keep your pallet racking safe. Maintaining a safe pallet racking system will also guarantee that your storage system meets and complies with the current Australian code and safety standards. Following pallet racking safety standards will not only ensure the overall workplace safety but also assists you in maintaining the high standard of your business to your existing and potential new customers.
Keeping your pallet racking system safe
---
At D&C Storage Solutions, we always recommend getting your pallet racking safety inspection done on a regular basis by ISO-9001 certified pallet racking professionals such as ourselves. Regular inspection of your pallet racking system is also extremely important to ensure there are no breaches of safety. D&C Storage Solutions are certified to correctly complete regular inspection, annual auditing, and certification to meet and comply with the Australian standard for steel storage racking AS 4084-2012.
Industrial pallet racking systems are vastly different from the steel shelving that is used in your home or garage. This is why pallet racking systems in businesses and warehouses require regular inspection, repairs, maintenance, and certification. Ensuring the safety of your pallet racking system will help you avoid costly capital damage and workers compensation.
Pallet Racking System Damages Overtime
---
Pallet racking systems are made of high-quality steel to carry heavy loads. During the loading and unloading of materials, some of the components can get loose, bent, or hit by forklifts. If such damages to your pallet racking systems are not inspected and maintained regularly, they can put your stock, equipment and workers health and safety at risk.
How to maintain safe pallet racking
---
It is easy to maintain safety of your pallet racking systems. We have outlined some of the key steps here that will help you maintain a safe Pallet racking system.
Choose the right pallet racking solution
---
There are many different types of Pallet Racking systems available in the market. You should choose the racking system that perfectly suits your business requirements. If you are unsure about your Pallet racking requirements, you can always consult with your local Pallet racking experts.
D&C Storage Solutions have branches all across Sydney region including Minto, Wetherill Park, Botany, Penrith, Silverwater, Caringbah, West Gosford and Unanderra. Call us on 9605 7555 for free measurement and consultation.
Range of pallet racking options available
---
You have many different types of pallet racking options to choose from. Here are some of the most common types of pallet racking solutions available in the Australian market:
There are also many different components for each types of Pallet racks. Choosing the wrong type of Pallet racking solution for your business is more likely to cause racking damages. A thorugh analysis and design of the storage area is required to ensure the safety and longitivtiy of your pallet racking system.
What to Consider to Maintain Safe Pallet Racking
---
Product

It is important to understand the types of products stored in the pallet racking. A custom pallet racking solution may be needed based on the dimension, weight, and nature of the product that is stored on pallets.

Handling method

The handling method is important to keep in mind before choosing your next pallet racking system. Will forklifts be used most of the time to store the materials? Will the materials be handled manually by hand? What is the frequency of loading and unloading of the material into the racking? These factors play an important role in your pallet racking storage system.

Storage area

Storage area is important to consider because easy access to forklifts or factory workers to handle the materials is important, without it, stock cannot move with fluidity. A custom pallet racking solution might be necessary to make the most of your storage area.
Type of products stored in Pallet Racking
---
Product weight, dimension and distribution on the racking plays important role to keep the system safe. You also need to consider how fast your product are coming in and going out. Warehouse that deals with high inventory rate will require heavy duty Pallet racking system. It is important to know that added activity increases the risk of Pallet racking damage. They might require regular inspection and reparing depending on the use case.
Designing your pallet racking system
---
The design of Pallet racking system will vary based on the type of products you will be storing and physical capacity of your warehouse. While designing your pallet racking system, you need to make sure there is plenty of space between aisles or shelves for forklifts or other vehicles to pass through.
Do not adjust or modify without consulting a pallet racking professional
---
It is recommended not to adjust pallet racks without consulting a qualified pallet racking specialist. Pallet racking are made of many different components such as frames, beams and base plates. Once Pallet racking is installed, it is crucial that you continue to use the system as it was originally designed, installed or outlined by the manufacturer's guidelines.
Pallet racking system to meet Australian code and standard
---
Pallet Racking systems are considered a building element and follow strict codes and standards. In Australia, your pallet racking system should meet Australian Standard for steel storage Racking AS 4084-2012. This standard has come to effect since 2012. To meet and comply with Australian standard, your pallet racking should be certified.
Guarantee your pallet racking safety with regular inspection and certification
---
The pallet racking certification process begins with onsite inspection of your storage system. You can contact D&C Storage Solution for your pallet racking inspection, annual auditing and certification. We provide the highest standard of certification that is guaranteed to meet and comply with Australian standard. We also offer flexible plans that will cover you up to 5 years in a row so that you can have a complete peace of mind about your storage system. You can rely on us for regular inspection of your racking system, repairs and maintenance and even annual auditing and certification.
Modification, Alternation or Removal of Pallet Racking
---
Before modifying, altering, or removing your pallet racking system, you need to be aware of the consequences. Any adjustments to the pallet racking beams affect the load capacity of the frame which could potentially damage your pallet racking system. If a beam is raised, lowered, or removed, the racking system may no longer be able to carry the load it was originally designed to uphold.
Mixing Different Pallet Racking Components from Different Manufacturers
---
You need be careful when mixing together different pallet racking components from different manufacturers. Pallet racking components from different manufacturers. Pallet racking systems use a safety lock that holds the beam in place. If this safety lock is not properly engaged, the beam is not properly held in place and can be easily dislodged. If you are mixing components, you need to make sure that the beam is from the same manufacturer. Always follow the instruction manual of the pallet racking brand, if you are unsure, you can contact us on 9605 7555 for a free consultation.
Overloading Pallet Racks
---
Do not overload your pallet racking system at any time and always follow the safe working unit loads. Your workplace must have clearly visible safe working unit load signs in place. Always follow the load capacity mentioned on the load signs as loading more product than specified onto racks can damage the structure and eventually lead to a complete failure of structure.
If your warehouse does not have load signs, your storage system does not comply with Australian safety standards. This can be rectified by getting your pallet racking inspected and certified by us. Upon certification, you will receive all the documentation along with safe working load signs.
Pallet Racking Safety Training
---
At D&C Storage Solutions, we have qualified safety instructors with years of industry experience who can come to your workplace and train you and your staff members about the safe handling of pallet racking storage systems. We will make sure that your working operation will be sound with no safety issues or concerns.
Properly trained forklift drivers
---
Properly trained forklift drivers are important to keep your pallet racking system in good condition. The majority of pallet racking damage is caused by forklifts hitting or bumping the racks. Along with training, it is recommended to have some incentive programs for forklift drivers to encourage safe operation.
Frequent Inspections of Your Pallet Racking System
---
Regular inspections of your pallet racking systems need to be implemented at your workplace. This will help you identify racking misuse such as overloading and keep you aware of any damages as they happen.
Use of Protective Guards to Protect Your Pallet Racking System
---
Installing protective guarding devices is optional however they can be implemented to protect your pallet racking system. You can choose from a range of pallet racking protectors. Here are the types of pallet racking protectors available
Types of pallet racking protectors
There are many different types of protectors available in the market that helps you protect your pallet racking systems. You can choose the right one depending on your storage system design and requirements.
---
Rear Upright Protector

Heavy Duty Upright Protector

Smart Guard Universal Protector

Plastic Upright Protector

Rack End Protector

Drive in Upright Protector

Floor Bolted Column Guard

Smart Guard Upright Protector
While installing protective barriers, make sure the forklifts have enough space to move around. If you notice any damages to your racks, get it checked by your local pallet racking experts immediately.
A slight bump by a forklift can cause a disaster if not repaired on time. If you are unsure about the repair kit, size, brand and availability of your pallet racking system. You can call us on 9605 7555 . We carry over 20 brands of pallet racking with parts and components for over 200 different models. If you need any pallet racking components repaired or reinstalled, we have got you covered.
Get Help from Your Local Pallet Racking Professionals
---
Whether you are repairing, replacing, removing, or simply adjusting your pallet racking system, D&C Storage Solutions can help you complete any task with our team of professional engineers, fabricators, and pallet racking installation specialists.
About D&C Storage Solutions
We provide complete pallet racking solution with range of Australian pallet racking brands including Dexion, Colby, Elite Built, Acerack, Macrack, Schafer, Alpha,Brownbuilt, Spacerack and APC. We serve Greater Sydney Region including Sydney, West Gosford, Wetherill Park, Silverwater, Unanderra, Caringbah, Ingelburn, Penrith and Botany.