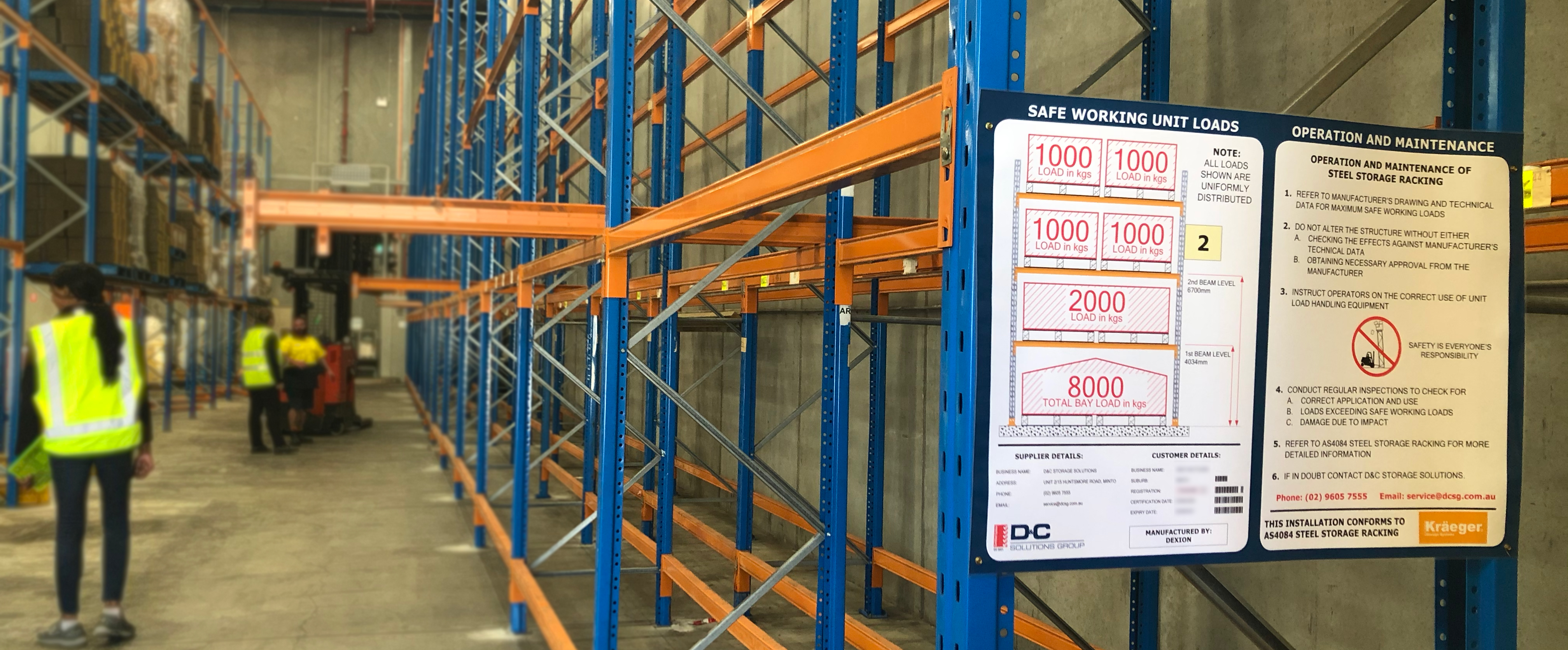 Safe Working Load Signs are used to identify the load capacity of a pallet racking system. Load signs display the maximum weight per beam level as well as the frame height, beam pitch and total weight limitations of each bay.
Frequently asked questions
---
DO I NEED LOAD SIGNS?
NOTE: Load signs are mandatory for all users of pallet racking as per SafeWork Guidelines and must be displayed on every aisle in a highly visible place.
WHAT DATA DO LOAD SIGNS NEED?
Load signage data must be made to manufacturer's specifications at the time of manufacture, including the installation specifications of the system. The maximum unit load and total rated capacity per bay should never be exceed.
In order to conform with the Australian Standard AS4084-2012 Steel Storage Racking, Safe Working Load Signs must contain:
Permissible working unit load limit for each pallet
Permissible total working unit load limit for each beam level
Permissible total working unit load limit for each bay
The maximum distance from base plate level to the first beam level, and the maximum distance between first and second beam levels
Additional information include:
Racking use safety guidelines
Racking manufacturer's name, installer's name and installation date
Inspection and maintenance dates
Incorrect working loads could result in overloaded racks, causing racking failure and potentially dangerous working environment.
HOW DO I GET COMPLIANT LOAD SIGNS?
At D&C Storage Solutions, you will receive customized and easily comprehendible load signs with correct placement ensuring they are clearly visible to all. These signs exceed compliancy as per the Australian Standard and contain vital information regarding proper operation and maintenance to ensure your safety is guaranteed.
Physical alterations and modifications to racking may reduce the original calculated load. As such, we offer customers FREE RE-CERTIFICATION within a 12-month period for any modifications or relocations, including free updated load signage to ensure all unit loads are accurately and consistently updated.