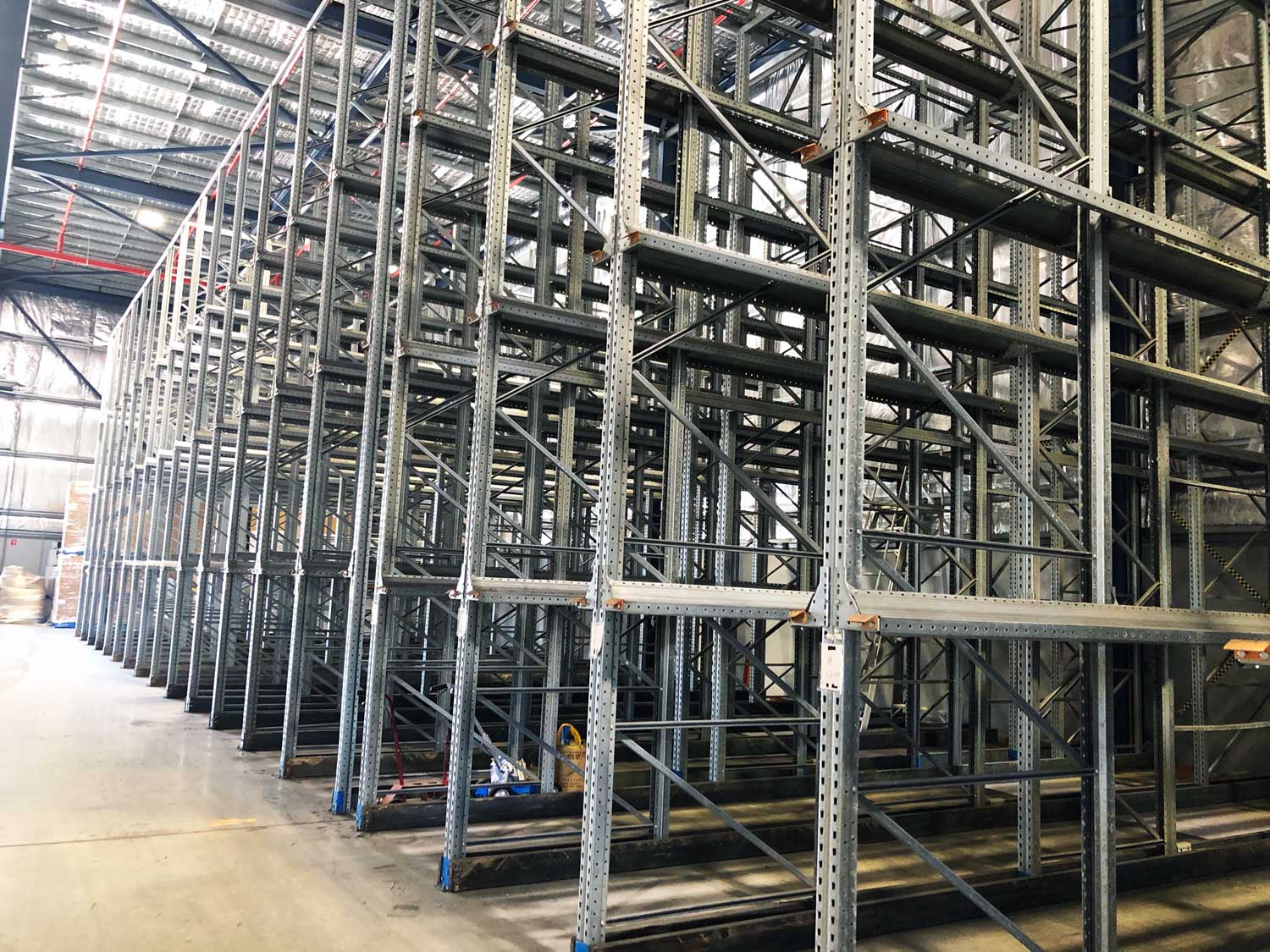 Drive-in pallet racking is the most effective storage solution for businesses looking to store high volume products with low rotation frequencies while being easily accessible in your warehouse.
Drive-in racking systems utilise self-centring rails that allowing pallets to slide backwards and align itself safely, making it painless for forklifts to access any and all products regardless of the height or weight. Picking and replenishing can be done safely using forklifts, making it the ideal solution for cold storage.
These racks use the first in last out system (FILO) as opposed to first in first out (FIFO) therefore storing pallets with different products can complicate the system. D&C Storage Solutions assure that we have the correct drive-in racking system whether single entry or double entry points are required, D&C have all your drive-in pallet racking needs. Our systems are Australian made that meet and comply with the Australian standard for steel storage racking AS 4084-2012.
Drive In racking system for storing bulk products
---
D&C Storage solution provides Drive in Racking system that is designed for storing large quantities pallets. In drive in racking system, pallets are stored deeper to increases the storage capacity. You can use forklifts safely and easily to store and access pallets from the drive in racks.
Drive in racking system is a great solution for storing large quantities of products in high floor area using forklifts. To load and unload the pallets from the racks, you will need to use the forklifts. The ability to store pallets in high floor area helps you utilize the storage racks that would otherwise left empty. Forklifts can enter into the drive in racking using either single or double entry point depending on your warehouse design.
D&C Storage System provides Australian made Drive in racking system that meets and comply with Australian Standard for steel storage Racking AS 4084-2012.
Benefits of Drive-in Pallet Racking Systems
---
Best suited for bulk storage with low rotation frequency
Excellent solution for cold storage application
Unique self-centring rails to snap pallets in to place efficiently and safely
Uncomplicated picking and replenishing system for conventional forklifts 
Things you should know about Drive in racking
Drive in pallet racking system is not ideal for storing pallets with different products type
Drive in pallet racking system is not ideal for storing pallets with high rotation frequency
Drive in pallet racking system is first in last out system (FILO) opposed to first in first out (FIFO)