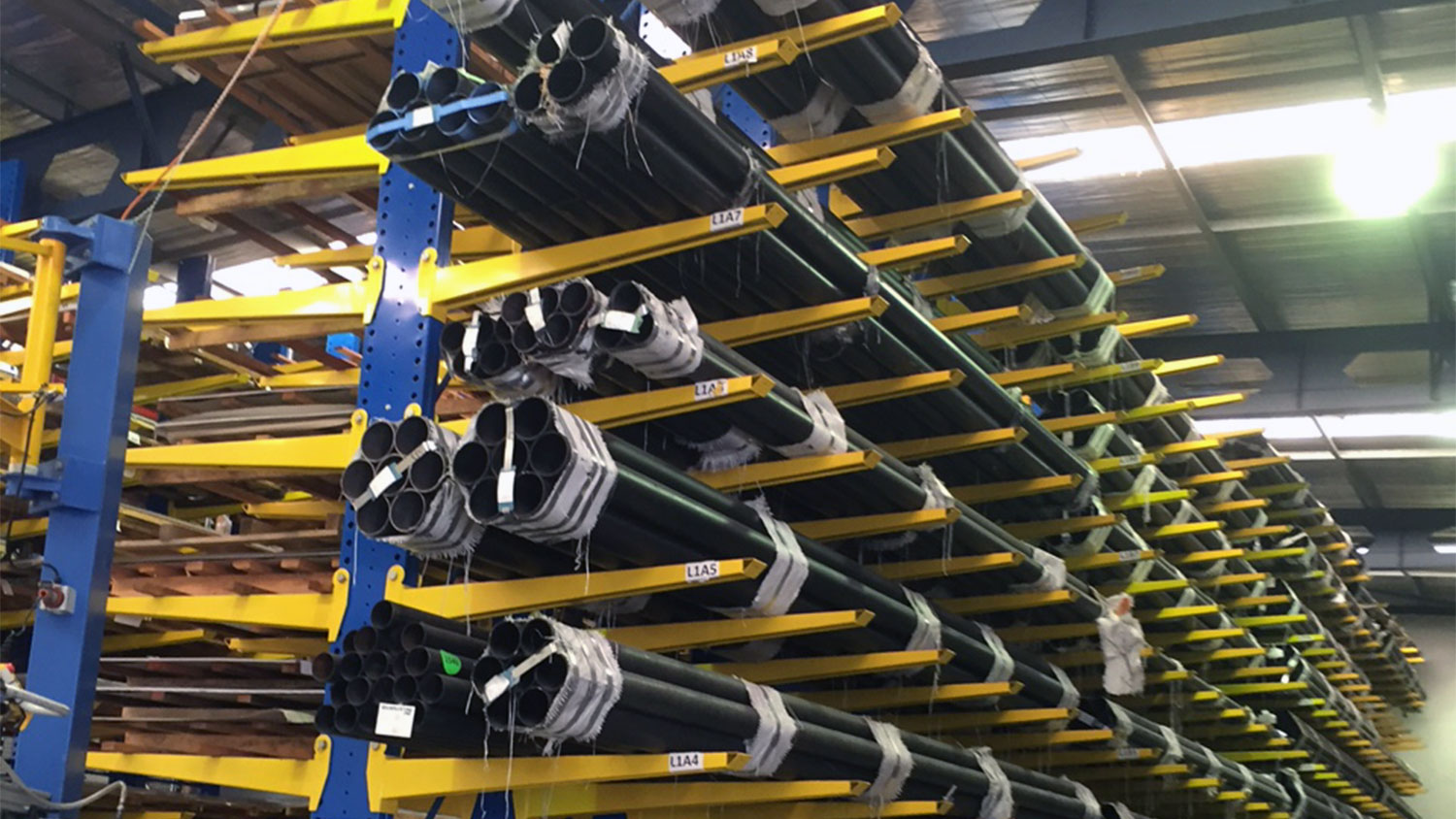 Here at D&C Storage Solutions, we provide a complete range of cantilever racking solutions tailored to any custom business requirement.
Cantilever racking is the perfect solution to store a wide variety of long bulky items that is made easily accessible in the process. Materials that are most commonly used consist of but are not limited to, wood, plywood, lumber, plumbing pipes, PVC pipes, galvanised pipes, steel pipes, and iron pipes. What is unique about cantilever racking is that it is widely used for outdoor storage making it convenient for any kind of handling. Cantilever racking is a great way to keep materials off the ground while being extendable at any point in time using extra uprights, arms, and braces.
Benefits of Cantilever Racking
---
Easy access to the entire stock of a material
Convenient way of handling and storing long and bulky materials
Provides more storage capacity suspended off the floor
Can be used as outdoor or indoor storage
Accessibility made simple for forklift loading and unloading
Existing cantilever racking systems can be easily extended at any time
Cantilever Racking Components
---
Uprights

Uprights, also known as vertical beams, are beams with an enhancement plate that supports the arms to carry any intended material.

Base Part

An upright utilises the base part for extra support. The base part is bolted to the enhancement plate of the upright in order to provide extra support for the upright in order to carry the load.

Arms

Arms, also known as horizontal beams, have the most important role being to carry the load. Depending on the racking system being double or single sided, the required strength of the arms may vary. Arms are able to be adjusted to different angles in order to suit any storage requirement.

Braces

Braces are used to hold uprights together and provide stability support. Depending on the height of the uprights, the number of braces needed will vary.
Range of Cantilever Racking
D&C Storage Solutions provide a complete range of high-quality cantilever racking solutions to tailor to any custom business requirement. Listed below are some of the cantilever racking systems we specialize in.
---
Light Duty Cantilever Racking

Medium Duty Cantilever Racking

Heavy Duty Cantilever Racking

Structural Cantilever Racking

Wall Mounted Cantilever Racking

Single Sided Cantilever Racking

Double Sided Cantilever Racking
Cantilever Racking by D&C Storage Solutions
---
D&C Storage Solutions strive to provide the highest quality in all racking including our range of cantilever racking. This range include new and used by all trusted major brands such as Dexion, Colby, Elite Built, Acerack, Macrack, Schaefer, Alpha, Brownbuilt, Spacerack, APC and Kräeger. Our custom cantilever racking solutions starts from free measurement to design, installation and even relocation. Find out more, contact us on 9605 7555 or use the online contact form to send your message now. We are more than happy to assist you further.